At least three persons, two male and a female have been arrested for electoral malpractices in Montserrado County and detained at the Liberia National Police headquarters.
Trokon Davies, 34 and Mark Robert 35 were arrested with over 100 pieces of voter's registration cards on 19th Street sinkor while Felecia Tarr aged 35 was arrested with fake voter registration card.
The three will remain behind bars until further investigations are carried out by the Criminal Investigation Division (CID) of the Liberia National Police.
Liberia Public Radio national correspondent in Monrovia says some minor voter's irregularities also occurred in some parts of Montserrado where more than 1.5 million people registered to vote.
Meanwhile there was some low turnouts in some counties including Margibi County.
Some voters told our correspondent in Margibi that the low turnout is because of some of them not finding their names on the voter's roll.
"It's just difficult to find my name here. I have moved from one point to the others, but my name can't be seen. I think I will just go home", A female voter remarked.
At the E.J. Yancy School Annex precinct in electoral district #3, Kakata, Margibi County, party observers' complaint of low turnout, but expressed optimism that people could later show out to vote.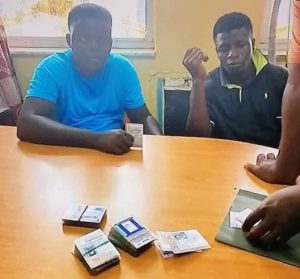 "People are not really coming to vote. Since this morning, less numbers of voters have been coming to vote" a party observer said.